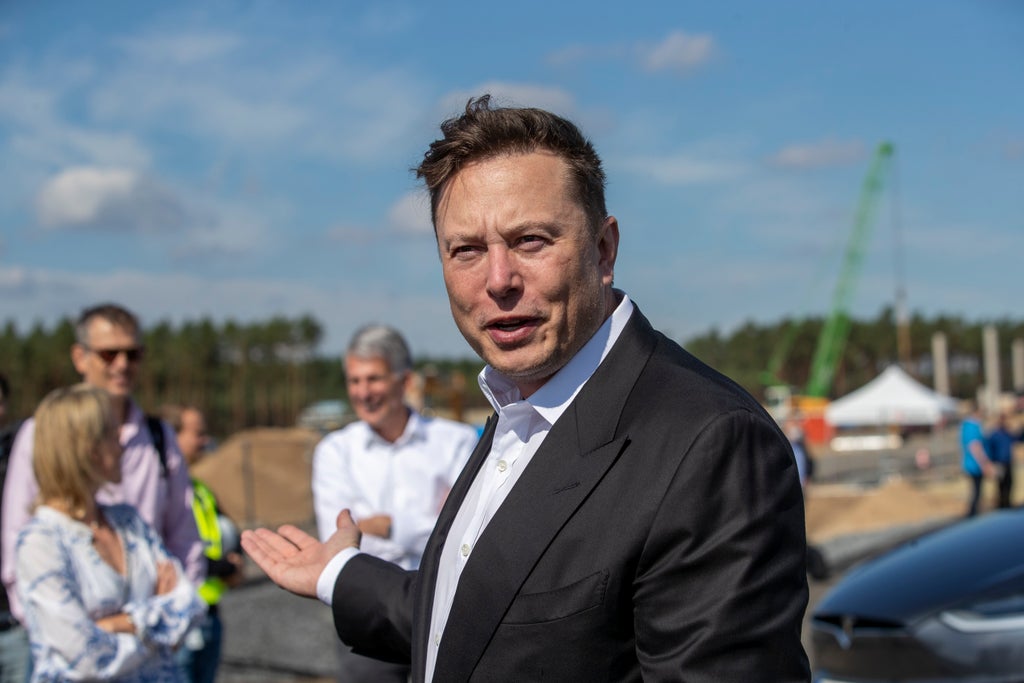 Investment bank giant JPMorgan has sued Elon Musk for a $ 162.2 million (£ 120 million) lawsuit against Tesla, accusing the electric car company of a "blatant" breach of an agreement on warrants signed in 2014.
A warrant entitles the holder to purchase shares in the company at a specified "strike" price and date. JPMorgan has turned to Manhattan federal court over a dispute in which the bank has said it had to re-price its Tesla option in 2018 because of tweets from Mr Musk.
Under the agreement, Tesla sold its stock options to JPMorgan in 2014, which would repay itself if the agreed "cap price" were below the car company's share price at the end of the stock options in June-July 2021.
But when Mr. Musk announced in 2018 that he was considering privatizing the company, JPMorgan had to make changes to the value of the options. When Musk changed his mind about privatizing his company a few weeks later, JPMorgan had to make changes again.
JPMorgan has said it had a contractual right to make these adjustments, but Tesla has said the changes were "unreasonably rapid and represented an opportunistic attempt to take advantage of changes in the volatility of Tesla's stock." CNBC.
The bank said in its complaint that Musk's 2018 tweet showed "suspicious intentions" to make Tesla a private entity.
"I'm considering taking Tesla private for $ 420. Funding secured," Mr. Musk tweeted on August 7, 2018. The CEO of SpaceX continued with another tweet that read, "Shareholders can either sell 420 or own shares and go private."
JPMorgan has pointed out that Mr. Musk's decision to take Tesla private for $ 420 a share was a significant moment, as at that point the share price was $ 341.99.
The price of your musk tweet was a difficult goal for JPMorgan to achieve and at least $ 148 lower than the price set at $ 568. In the end, JPMorgan would not have earned any money. So, JPMorgan said, it down-regulated the strike price and increased its chances of winning.
Under the agreement, if the Tesla share price reached or exceeds the agreed subscription price on the option maturity date in June and July 2021, it would owe JPMorgan the difference.
The share price of the already booming Tesla exceeded $ 600 in June this year, allowing JPMorgan to easily benefit from the deal. But Tesla only paid JPMorgan for the original undisputed part of the contract and did not take into account the changes made.
JPMorgan claimed that Tesla had not disposed of the agreed amount of its shares or cash and had therefore breached the agreement. The bank claims that Tesla failed in that. "While JPMorgan's adjustments were appropriate and contractual, Tesla has blatantly disregarded its clear contractual obligation to pay JPMorgan in full," the bank said in a statement.
The investment banking company has asked Mr. Musk to pay an additional $ 162.2 million, citing standard warrant provisions that allowed it to lower the subscription price to protect itself from the "financial impact of significant Tesla acquisitions."
JPMorgan authorities claim that they have been forced to choose a legal route. "We have offered Tesla several opportunities to meet its contractual obligations, so it is unfortunate that they have forced this matter to go to court," the bank added.