In connection with the timing of the Los Angeles Auto Show, Porsche unveiled both the 718 Cayman GT4 RS and the 718 Cayman GT4 RS Clubsport.
The RS model is a sporty, street-right performance model, while Clubsport is set to stay on the race track.
Several design changes have been made to account for GT4 RS performance. The small windows, which would normally be on the driver's and passenger's side, have been replaced with air intakes. The side openings in the rear panels have been adjusted to meet the car's higher cooling requirements.
Carbon fiber reinforced plastic has been used to build the front fender and bonnet to keep it lightweight. The door panels are equipped with fabric door openings and storage nets.
The fixed rear wing of the GT4 RS has gooseneck brackets and aluminum supports.
With the optional Weissach package, the boot front cover, process air intakes, cooling air intakes, air box cover, exterior mirror covers and rear wing are made of carbon fiber.
At Clubsport, natural fiber composites are present throughout the body design of the front deck, doors, rear wing, fender and other aerodynamic components.
The adjustable suspension was given a GT4 RS-specific damper as well as adjustable spring and tilt dampers.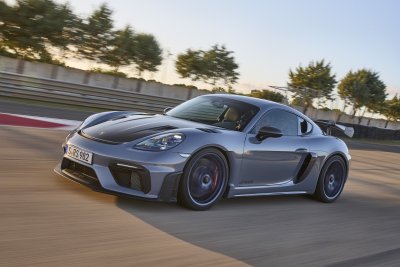 Improved Clubsport suspension for the track was revised for better responsiveness. The shock absorbers, ride height, tilt and toe are all adjustable.
Porsche offers two exhaust systems in Clubsport for noise-restricted tracks.
Using the 911 GT3 Cup's free-breathing six-engine GT4 RS, it produces 493 horsepower and 331 pound-feet of torque. The unique seven-speed dual-clutch transmission (PDK) is designed to shift gears quickly, maximizing the car's performance.
The setting allows a zero-60 mph time of 3.2 seconds.
Under the hood of the Clubsport, the 4.0-liter six-cylinder boxer engine combined with the PDK produces 500 horsepower and 343 pounds of foot torque.
In the Weissach package, the top of the dashboard is upholstered in Race-Tex.
Natural fiber composites were used to build the Clubsport steering wheel.
The Clubsport's interior features a welded safety cage, an adjustable Recaro racing seat, a fire extinguisher and a built-in air support system.
Porsche's stability control system has been tuned to provide Clubsport with traction control, anti-lock brakes and an updated stability control system.
Porsche Design has created the Chronograph 718 Cayman GT4 RS watch, which is offered exclusively to GT4 RS buyers.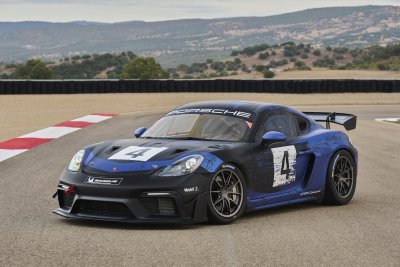 The GT4 RS has a retail price of $ 141,700 (excluding destination fees) and the cars are expected to arrive at dealers in the summer of 2022.
The Clubsport model will be sold through Porsche Motorsport North America starting at $ 229,000. The company says the car will compete in the IMSA Michelin Pilot Challenge and SRO GT4 America and GT America 2022 series.